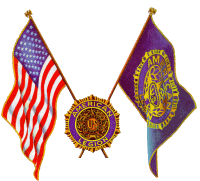 The Drill Team

of Joseph Loeffler Post #1006, Brentwood, New York 11717-4677
631-435-9636
---
---
---
---
| The Drill Team | |
| --- | --- |
| CPT | PSC James Connolly |
| Private | Brian Fowler |
| 1 Lt | Sharon Hoover |
| Private | Aidan Killpatrick |
| PFC | Steven Mendez |
| Cwo | PPC Gerald G Mignon |
| Private | Michael Potts |
| SSGT | PSC Cisco Rivera |
| SSGT | PPC Ernest Sawtelle |
| 1 LT | PPC Joseph Sawtelle |
| 1LT | PPC John Sheahan |
| Private | Alfie Stetler |
| MSGT | PPC Tom Wagner |
Officers' terms are one year from September to September.
---
---
---


Honorary
Stan Smykowski
Andy Weisgerber
A hearty Drill Team Thank You to Stan for his annual donation.
---
---
Are your dues paid for 2021? Click on the Drill Team bar and check out the rosters.
---
---
THE FOUR CHAPLAINS STORY
On February 3rd, 1943 four American chaplains of different faiths - Protestant, Jewish, and Catholic - each gave away their life preservers and their chances for survival when their ship, the USS Dorchester was mortally struck. The four chaplains went down together with the ship.........
For the story of the Four Chaplains, go to http://www.fourchaplains.org/
---
In Memoriam
Clay Gray WW II
PPC Harry Hamilton WW II
Ken Jordan SAL
PPC Ray O'Sullivan SSGT USA WW II
PPC George Stinsman MM3 USCG WW II
PPC Manny Suarez WW II
PPC Paul Taylor PFC USA WW II
PPC Fred Kolb Cox USN WW II
Ed Kristan PFC USA Vietnam
Bill Zukas Sp4 USA Vietnam
Richard Boyler USN Korea
Tom Byrne PFC USA Vietnam
PPC, PCC Ed Kelly CPL USMC Korea
John Turk PFC USA Vietnam
Tom Baldwin USN WW II
Bob Galoppi SGT USA Vietnam
Gene Lowery CPL USMC Vietnam
Ed Chojnacki USAF Vietnam
PPC Brendan Buckley USA Korea
---
---
Sign the Post Guestbook
View the Post Guestbook
---
---
American Legion Post #1006
MMIII-MMXXII.All Rights Reserved.©
No-Frills Web Sites by G.G. Mignon
Updated on August 17, 2022.